Image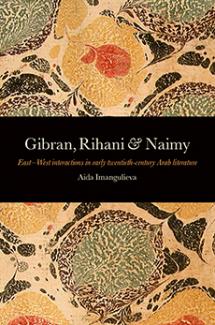 East–West interactions in early twentieth-century literature
Overview

The three Lebanese writers discussed in this volume – Kahlil Gibran, Ameen Rihani and Mikhail Naimy – all emigrated to the USA early in life. There, in the first decades of the twentieth century, together with other Syrian and Lebanese émigrés, they were spurred into writing and setting up an Arabic-language press. The result was what became known as the Syro-American School, a fusion of Eastern sentiment with Western forms and, beyond this, a cultural cross-fertilisation in both directions.

All three authors wrote in English as well as Arabic, while Mikhail Naimy also wrote in Russian. Many of their works were directed at specifically Arab affairs, and they also wrote much that was of deliberately universal appeal, including a re-interpretation of traditional Arab spirituality. The best-known example of this was Kahlil Gibran's bestseller The Prophet. A century on, their words on the need for East and West to come to one another's aid are as salutary as ever.

This important book was originally published in Russian during the final years of the Soviet Union. It examines the influences of foreign literary movements, such as Romanticism and Realism, upon the three authors: Gibran and Rihani in the light of English poets like Wordsworth, Byron and Shelley, and American writers such as Emerson and Whitman; Naimy through the lens of the Russian Realist tradition, drawing parallels specifically with the work of Belinsky, Tolstoy, Turgenev and the Chekhovian tradition.

The book provides an unusual window onto the Arab world's cultural interaction with Europe, America and Russia in the early twentieth century. It also reaches beyond its academic scope and reveals, from the pages of the three authors, universal elements that speak to all people and go beyond cultural frameworks altogether.
Details

Imprint:

Inner Farne Press

There is no hardback edition at this time

ISBN

Kindle (Mobi):

9781905937400