Image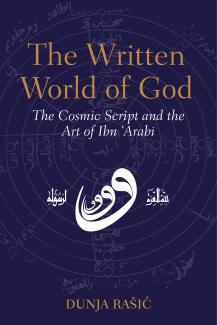 The Cosmic Script and the Art of Ibn ʿArabī

Overview

Existence is a letter, you are its meaning

And in the world of creation I have no hope other than Him (Ibn ʿArabī)

This ground-breaking book introduces readers to one of the fundamental areas of symbolical knowledge in Sufism: the letters of the Arabic alphabet. For the first time in English there is a systematic overview of the science of letters (ʿilm al-ḥurūf) according to the great Andalusian spiritual master, scholar, poet and philosopher Ibn ʿArabī (d. 1240).

Ibn ʿArabī defined the science of letters as familiarity with the building-blocks of the sacred Qur'anic revelation and everything in the world of Nature. Letters are understood as visual and aural signs pointing to the mysteries of existence.

This book examines how the universe came to be, for what purpose it was created and the hierarchical structure it is endowed with.

THE WRITTEN WORLD OF GOD contains over 60 images and illustrations, with many of Ibn ʿArabī's own diagrams and drawings. These give a visual aid for how the meanings carried by the letters fully encompass the whole of existence.

Dunja Rašić is a research fellow at the University of Belgrade. Her expertise is in the Islamic philosophy of language, palaeography and Sufism, and this is her first book.
Endorsements

"The Written World of God is the first and only detailed introduction to Ibn ʿArabi's 'science of letters'. Through meticulous and thorough research, Dr. Rašić has shone important light on this essential and vast region of the authentic teaching of the greatest master of Sufism. In the process, she demonstrates how this sacramental science is used by Ibn ʿArabi to mine and display the incalculable power of the holy language of Arabic and elaborate a 'literal metaphor' for the creation and functioning of the cosmos and everything in it. This book corrects errors in previous scholarship and opens a very welcome door to the further study of what has been a too-long-neglected - sometimes unfairly disparaged - feature of the writings of Ibn ʿArabi in particular and Sufism in general."

Todd Lawson (Professor Emeritus, University of Toronto)

The 'Science of Letters' pervades Ibn ʿArabi's entire work in ways that are both obvious and hidden, so this book by Dunja Rašić is very welcome, because it opens a well-crafted window on it for the serious seeker.

Paolo Urizzi (Perennia Verba, Italy)
Details

ISBN

Paperback:

978-1-905937-68-4

eBook ISBN:

978-1-905937-67-7
Extract