Image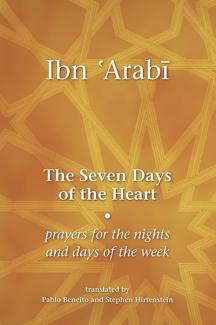 The Seven Days of the Heart
Ibn ʿArabi's Awrad al-usbuʿ (Wird)
Prayers for the nights and days of the week

CURRENTLY OUT OF PRINT - NEW VERSION COMING SOON
Overview

Ibn ʿArabi has long been known as a great spiritual master, but the prayers which are attributed to him remain little-known. They provide a most precious glimpse into the real practice of the mystical life within the Sufi tradition. This is the first time that any of Ibn ʿArabi's prayers have been published in another language.

This particular collection (Awrad al-usbuʿ or Wird) is one of the most beautiful, having been revered in the Islamic world for centuries. There are fourteen prayers, one for each day and night of the week. They include not only the most astounding expressions of contemplation and devotion to God, but also an unparalleled depth of knowledge of Union (tawhid).

As the translators Pablo Beneito and Stephen Hirtenstein show in their introduction, the very structure of the prayers is a mode of contemplation, since for Ibn ʿArabi the weekly cycle itself is sacred.

This is a unique spiritual masterpiece, available for the first time in English.

The Seven Days of the Heart is now available in two print editions. The durable binding, larger type and ribbon marker used in the cloth edition, which has no dustjacket, make it especially suitable for long-term recitation.
Endorsements

There is no doubt that this book, which gives a clear English translation, plus well-researched footnotes and introduction/appendices which connect the text to the whole corpus of Ibn 'Arabi's work – and beyond, to its Quranic source – provides new opportunities to imbibe full benefit from these extraordinary invocations.

Jane Clark, from a review in JMIAS 30, 2001
Details

ISBN

Kindle (Mobi):

9781905937066
Related